FAIMER Applicants
Use this page to apply to the International FAIMER Institute or FAIMER Regional Institutes.
To start your application, please go to the bottom of the page and select one of the "Programs" to apply to.
To be considered for a fellowship, you must complete all parts of the application and submit all supporting documents. Prior to submitting your application, you will be able to save it and return to it later. Your application information will be available for you to review and make changes until the application deadline. If the application is not currently open, you will be unable to apply. Please see the "Application Opens" date for the date on which you can begin to apply. The selection process for some programs may include a telephone interview. If this is required, candidates will be notified.
| | | | |
| --- | --- | --- | --- |
| Fellowship Program | Location | Application Opens | Application Deadline |
| International FAIMER Institute | | | |
| ASU-MENA FAIMER Regional Institute | | | |
| CMCL-FAIMER Regional Institute | | | |
| CMU-FAIMER Regional Institute | | | |
| FRIENDSHIP-FAIMER Regional Institute of Indonesia for Educational Development and Leadership | | | |
| FRILA-FAIMER Regional Institute in Latin America | | | |
| GSMC-FAIMER Regional Institute | | | |
| MAHE-FAIMER International Institute | | | |
| PSG-FAIMER Regional Institute | | | |
| SMU-FAIMER Regional Institute | | | |
To complete this application, you will need:
An email address.

An online user name and password. You will create a user name and password when you begin your first FAIMER application. Be sure to write down or remember your user name and password because you will need these to log back into the application and view its status at a later time.


A PDF reader. (Such as Adobe Acrobat Reader, Apple Preview, or browser.)
Required Supporting Documents:
Institution Nomination

Reference Letter
Education Innovation Project Worksheet
An Education Innovation Project is the focal point for the application of learning in FAIMER Fellowship programs. To apply, you are required to propose an Education Innovation Project. You may use this as a worksheet for preparing your project proposal before you start filling the application form. It is strongly recommended that as you describe your project in your Fellowship application, you respond to these questions.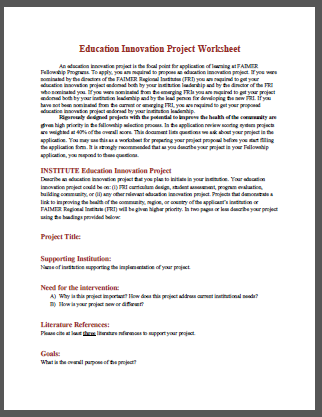 If you experience difficulty in accessing the application, or have questions concerning the application process please contact us.
International FAIMER Institute
Mr. Raymond Yuan, Technical Associate
Email: inquiry@faimer.org




FRILA-FAIMER Regional Institute in Latin America
Dr. Isabel Mora, FRILA Program Director
Email: iemora@uc.cl

ASU-MENA (Middle East North Africa) FAIMER Regional Institute
Mr. Walid Hamed, Program Contact
Tel: +20-1008879145
Email: ASU-MENA-FRI@med.asu.edu.eg

GSMC-FAIMER Regional Institute
Dr. Praveen Iyer, Co-Director
Tel: +91-022 24116935 Or 24107624
Fax: +91-022 24143435
Email: gsmcfricontact@gmail.com

CMCL-FAIMER Regional Institute
Dr. Dinesh K. Badyal, Director
Tel: +91-9815333776
Email: cmcl.faimer2@gmail.com

MAHE-FAIMER Regional Institute
Dr. Ciraj Ali Mohammed, Director
Tel: +91-9845170953
Fax: +91-820-2570062
Email: manipalfaimerinstitute@gmail.com

CMU-FAIMER Regional Institute
Dr. Yang Zhao (赵阳), Director
Email: cmu_faimer@163.com

PSG-FAIMER Regional Institute
Dr. Thomas V. Chacko, Director
Tel: +91-0422 2570170 Ext: 5803
Fax: +91-0422 2594400
Email: psg.faimer@gmail.com

FRIENDSHIP-FAIMER Regional Institute of Indonesia for Educational Development and Leadership

Dr. Yoyo Suhoyo, Program Coordinator
Tel: +62274562139
Fax: +62274561196
WhatsApp: +6281229481668
Email: medicaleducation@ugm.ac.id

SMU-FAIMER Regional Institute

Dr. Jia Zhimin (贾志敏), Director
Tel: +86-20-61648532
Fax: +86-20-61648532
Email: jiazm@smu.edu.cn